Certified ISO 31000 Foundation Course and Exam
FAQs
Course Description
This course enables participants to become certified as proficient in the ISO 31000 risk management standard (foundations level). Although many general risk management concepts and practices are presented during the course, the training and exam are focused on the ISO 31000 risk management standard which can be used by organizations of any size, any industry, and any sector.
Course Objectives
To understand the vocabulary, principles, framework and risk management process in accordance with ISO 31000.
To understand the benefits of ISO 31000 as an internationally-recognized standard adopted by more than 40 countries.
To acquire the competence to communicate effectively about ISO 31000 with people having different backgrounds and experience in risk management.
About the Course
In this intensive three-day course, participants develop competence in the foundations of the ISO 31000 risk management standard. Based on in-depth teaching, practical exercises and multiple choice questions that test their aptitude, participants acquire the necessary knowledge and skills to pass the stringent exam. They do so by becoming familiar with the vocabulary, principles, framework and the risk management process proposed in the ISO 31000 standard.
Course Content
During the course, we will present the ISO 31000 risk management standard in its entirety, and touch upon its two companions, the ISO Guide 73:2009, Risk Management Vocabulary and the ISO/IEC 31010:2009, Risk Management and Risk Assessment Techniques. We will also look at the general history of risk management and ISO 31000.
Exam and Certification
80 multiple-choice questions, duration: 2 hours. Participants who complete this course will receive a Certificate of Completion from both
The School of Graduate and Professional Studies
at Manhattanville College, Purchase, New York, and from the
Global Institute for Risk Management Standards - G31000
. In addition, those who pass the exam will receive a Certificate of Certified ISO 31000 Foundations from G31000.
Registration & Pricing
$2700 for the course includes exam and certication fees.
G31000 LinkedIn
group members are entitled to a generous 10% discount. See
registration page
for full details including changes and cancellation policy.
---
Groups
Call 845-450-2200 to negotiate group registrations.
---
This date & venue is now CONFIRMED and registration for West Palm Beach, Florida training is now OPEN.
West Palm Beach Marriott - Monday, December 16 through Wednesday December 18, 2013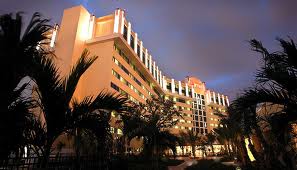 is located 2 miles North East of Palm Beach International Airport (PBI). Hit the town or relax on the beach when you stay at West Palm Beach Marriott. Enjoy the newly renovated guest rooms, inspired by the tranquil lifestyle and vibrant colors of West Palm Beachs idyllic location. Conveniently located near CityPlace, Kravis Center for the Performing Arts, Cruzan Amphitheatre, Palm Beach County Convention Center and Palm Beach International (PBI) Airport, the West Palm Beach hotel appeals to leisure and business travelers alike. Relax in deluxe accommodations and take advantage of convenient amenities, including high-speed Internet, complimentary airport shuttle and on-site parking. The hotel features 18,000 square feet of event space and is located within 10 miles of more than 100 entertainment venues and sports activities. The EARLY-BIRD DISCOUNT APPLIES ONLY UNTIL SEP. 14, 2013. The Linked In 10% discount is available until November 1, 2013. See the registration page for details!
Join our mailing list to receive all timely course information.